1% Idea: How To Build The Next Big Thing
by: Vince Wong | Posted on :
1% Insights
1% Skillsets
|
(9) Comments
---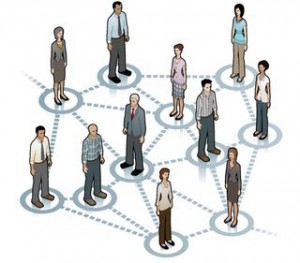 Got a brilliant idea, and think you can make it go viral on your own?
Think again.
Out of 100 ideas that people think will go viral, less than 1% will actually take off. Take Facebook, currently one of the most viral websites in the world at the time of writing. Mark Zuckerberg and the team took years to build the site up to 500 million users.
Considering there are 7 billion people on the planet and counting, that's actually less than 10% of people who know about the social network.
Perhaps you're reading this post years later from writing. If so, Facebook may no longer be 'the big thing'. Something else, however, will have taken its place.
This 'something else' likely also took years in the making and was not an overnight success.
World class entrepreneurs will tell you that you can't trust a 'viral' instinct until AFTER something's gone viral. A big part of that is execution, but a smaller and more important part is- your idea is often not as brilliant as you think.

Just think about your friends who tell you that they had a 'brilliant idea' or insight. They may even be highly intelligent and have brilliant execution, but the idea just did not take off or hit tipping point. This post attempts to dissect the 1% of websites that do go viral, and to study this viral co-efficiency*.
*Viral co-efficiency is based on the velocity in the spread of an idea, preferably one not intended to be spread i.e. you share the idea with a small group of friends and next thing you know thousands of people are talking and buzzing about it.

So how do you improve your viral co-efficiency? Here's 7 thoughts to get your website/project/product to be in that 1%:

1. Prepare for virality. Ensure you have a good web host. Your web host partner should be someone you can contact even in the middle of the night when things are taking off, or the site is slowing down from rapid growth. I would also ensure I have set things up to capture my audience (such as an opt in email box or pop up). I failed to do so on 2 occasions in my life (first was a blog post I wrote that went viral, and the second was a YouTube video that hit over 1M+ views in 1 week.) So whether it goes viral or not, be prepared.

2. Find connectors. In Malcolm Gladwell's book The Tipping Point, he talks about a point at which an idea goes viral and often this is due to connectors around the world. When I have an idea that I think will go viral, I don't keep it all to myself. In fact, my close friends will tell you how often I share my ideas with them. I am also lucky that many of my friends are connectors and influencers themselves. Influencers are the ones best at getting tons of new people to try something new, and is the key to getting things past the tipping point. Treat them well! Remember you have to give before you get :)
3. World class marketing. You must have an excellent marketing strategy. Buzz, support, vision and the right positioning. A strong team behind you that can help channel the buzz. Make sure that your clients are happy. Be selective with them. Sometimes, it's better to fire customers. Do an 80/20 analysis. In this day and age, focus on getting them results. A single solid video testimonial from a client, esp when based on measurable result, is worth 1,000* saying it yourself.
Side note: One of my goal in 2012 is to get at least ONE testimonial, ideally on video, showcasing a member who applied principles learned from me and earning more than $1,000-$2,000 a month on the side (if you are willing to do one for us, please send to: nicky@project1percent.com)
4. Keep things simple. Your idea may be brilliant, but try to keep the initial idea as simple as possible. Facebook, when starting, did not have all the fancy chat functions nor even the like button. Every additional element you integrate into a website will likely increase the energy and distraction for your team. Instead, focus on the user experience and a solid infrastructure to handle rapid growth. Gmail is a great example, utilizing invites to slow the rate of growth.
5. Get investors before the launch.
Building a website is like building a physique. The larger you get, the more food/energy you require to keep growing. It therefore makes sense to stay as lean as possible, but people coming up with new ideas often underestimate the cost involved to scale with rapid growth. Servers, bandwidth and unexpected costs can easily accumulate, and without the right financial support, an idea can go bust easily. I had this happen once when building a website that reached 10,000 signups in 3 months and then ran out of money to keep it going. Always ensure you have the right cash flow to keep the project growing. Advertising and PR can also get expensive, but are all necessary to get word out especially at the crucial tipping point.
6. Track and survey. Just because your idea is taking off does not mean you know exactly why. In fact, it's likely that the reason for the virality may be different from what you expect. Maybe it's going viral in the wrong countries (I once had a small launch that went viral in South America because my traffic was not as targeted as it should have been). Track and analyze your data… you may be surprised by what you find.
7. Get a mentor doing what you want to do. Zuckerberg had Parker. Gates had Buffet. The one thing the top people know is that you can save a ton of trial, error, and wasted time by having the right mentors. Invest in your own growth. The top 5 people you surround yourself with or get advice from will have a major impact on your life. However, be aware that the top are usually VERY busy… don't ASK before you GIVE. Don't be a cheapskate or a value leecher. Provide them with value and help enhance their lives, and more likely than not, they will also enhance yours.
Got other ideas to get things viral? Please share with us in the comments below.